Dressage to Music Demonstrations
Unique and immensley entertaining demonstrations of Dressage to Music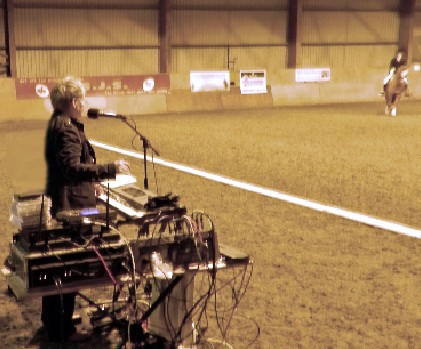 The first ever Dressage to Music Demonstration by a Grand Prix Rider and a Musician. Jennie Loriston-Clarke on Dutch Courage, with myself on October 27th 1980.
Various Demonstrations with Gaynor playing live keyboards.
http://www.youtube.com/watch?v=z6o2-Qj4Ao8
http://www.youtube.com/watch?v=wUMnP8Gsw60 http://www.youtube.com/watch?v=uIjM-Mo_UNk
Below are just 3 of the many leading International Riders Gaynor works with for Demos, Clinics and Competition Music,
Lucy Fallen, Charlotte Ward and Chloe Vell




Dressage to Music Demonstrations
http://www.youtube.com/watch?v=cYqqx0l2m-o
http://www.youtube.com/watch?v=VKeW36iuc6A
After 30 years of increasing popularity since Gaynor and Jennie Loriston - Clarke first popularised this arm of Dressage, Gaynor remains the only person who can put together a Demonstration in such an exciting and spectacular way. Many others now create music from existing material for Competition, which can cause many copyright problems with the Performing Rights Society if someone offers this service for payment, and many people will demonstrate the art of riding to their own compilations. There is nothing wrong with this, and it means that many people are able to put together perfectly good competition music which works very well for them.
Gaynor's Demonstrations however, look at the whole picture, from schooling at prelim level to performing a Freestyle Musical Kur at Grand Prix Level to an International audience. Her demonstrations encompass everything, showing schooling to music, building up to how to design a Freestyle Test, to working in matched pairs, and showing a choreographed orchestrated piece. Typically, Gaynor would ask the organisers to approach members of Riding Clubs or Staff and Clients to be involved in the Schooling to Music section of the demonstration. Any level, any size basically, as Gaynor can illustrate the benefits of Schooling to Music for any horse or pony. This is because she actually plays one of her keyboards, giving the audience the spectacle of thr riders working to LIVE music, watching the horse and rider, and matching to their own unique rythmn. Here is a link to show you Gaynor demonstrating how she uses her keyboards. http://www.youtube.com/watch?v=NjdnISdwunw
Gaynor also uses the schooling to music CDs as well as playing live, and also prepares music in advance for the Choreographed Orchestrated Freestyle Display Kurs, which form the latter part of the Demonstration, giving a fantastic finale.
For the second half of the Demonstration, Gaynor asks the organisers to involve local Dressage Riders from Intermediate to Grand Prix, so that the audience can see how rhythm changes when the horse performs lateral movements, changes and Piaffe and Passage. Not all centres are able to find a Grand Prix horse and rider, so the highest level possible can still illustrate all the drama and artistic content that Freestyle to Music evokes.


Jennie Loriston-Clarke on Dutch Courage and Dutch Gold.
A typical running order for a Demonstration.
Schooling session, 4 varying size prelim/novice riding to Gaynor playing live. She explains all about rhythm, tempo, transitions whilst playing, to build up their confidence, and ask a little bit more than they are used to.
Schooling session, 4 varying size prelim/novice riding to Schooling to Music CDs. Gaynor asks them to start to interperate the music, whilst using it to help them maintain constant tempo and rythmn, with transitions ALSO being made rhythmically.
Schooling session and live music session with novice/intermediate. Starting to build up rhythm awareness, and experiment with lateral movements, transitions, circles, pushing personal boundaries.




















A few of the riders Gaynor has worked with Jennie Loriston-Clarke, Nicky Barrett, Bill Noble, Trish Gardiner, Kate Hamilton, Richard Barrett, Diana Mason, Stephen Clarke, Bobby Hayler, Rebecca Hughes, Richard Davison, Paul Hayler, Sally Frost, Nicola Howell, Ceri Evans,Julia Morris, Chloe Vell, Leonie Smith, Phillipa Bishop, Aimee Witkin, Lucy Fallen, Matthew Cox ..............................................................to name but a few.
BREAK
After the break, she then has more advanced horse and riders. Looking at building up to a Freestyle Kur, she plays live, inviting the audience to reflect on what music they think wouls suit the horse, it's character, it's name. For example, Jennie Loriston-Clarke's stallion, Dutch Courage, we had Tulips from Amsterdam, and Scotch on the Rocks. As Gaynor plays live, and has a wealth of musical knowledge, this part of the programme is very entertaining as well as informative.
Gaynor illustrates by playing live how it is often that half-pass in both trot and canter slows the rhthym down, how counter changes speed the rhythm up. Piaffe is faster than Passage, Passage half-pass stays constant. These factors all vary, but it is very interesting to see how the advanced movements vary the natural rhythm.
The finale is ALWAYS the Advanced pair riding to music which Gaynor has totally tailor made to suit the horse, rider and movements. The music will match everything, tempos, movements, transitions and will give Drama to the whole evening.