Dressage to Music by Gaynor Colbourn
The World's most successful creator of Unique Music for Dressage.
11,344 Verified Winning Routines Worldwide since 1980.
Belinda Brereton riding Galaxy Moon at Gaynor's Hartpury Spectacular in June 2023.
Belinda, a very successful International Grand Prix Rider represents Ireland
Kimberley Alice Siddorn, riding Dutch Class

at Gaynor's Hartpury Spectacular in June 2023
Introduction by Internation GP Rider Alice Oppenheimer.
Holly Cooke, riding Lorenzo at Gaynor's Hartpury Spectacular in June 2023
Anne-Marie Perry-Cowan riding Lumiere, they went on the win the Winters Elementary FSM
Gaynor Colbourn, with 11,331 unique winning tailored routines with her music and floor plans, is the World's undisputed
creator of music for Dressage, the sport she and Jennie Loriston Clarke originated in 1980.
When interviewed by the BBC, Gaynor said 'I have to say how honoured I have been to create music for such a huge number of clients over the years, and I am so very proud of them all. I see the creation of the music and the floor plans for my riders as being the other part of their team. My clients school their horses, practice and then compete their Freestyles, I create their floor plans and music, we work together to achieve a common goal. This includes giving and feeling Joy as well as the Competitive Spirit. Win or not, I am equally proud of you all. Dressage to Music is not just putting music together for a test, it is creating a performance which evokes emotion, beauty and pleasure. So to all my clients, thank you. You give ME joy.
Its very important to me that people understand that the music I create is recorded from scratch, one instrument at a time. I am a total purist, and as I have been a composer for TV and Film, as well as a session musician and performer, I have huge experience in all musical styles. As a session musician, I have over the years, played every possible music type, ( including Hip Hop and Death Metal), so have a wealth of knowledge to share. I do not ever use music libraries or rip CDs and patch and paste recorded music, there is no art form in this. Thus, the music I create is unique to every horse, and every arrangement is tailor made. I mention Art Form because to me, Dressage Freestyle to Music IS an artform, a performance of beauty and it should be able to evoke passion and emotion. When Jennie and I first worked together back in 1980, our aim was for Dressage to Music to be as beautiful as Ballet and Ice Dancing.'
Having started creating music for Dressage in 1980, Gaynor has worked with top riders from several countries at various Olymics, and of course all other levels as well. 2019 was a busy year, and saw Gaynor working with several Icons of the Dressage World, doing Demonsatrations with Olympic Star/Trainer and Judge, Jennie Loriston-Clarke MBE, 7 times Olympic Gold Medalist, Para Olympic Rider Deb Criddle MBE, 5 times Olympic Gold Medalist, Para Olympian Tash Baker MBE, Leading Olympic Judge/Trainer Stephen Clarke, Leading International Judge/Trainer Isobel Wessels and so many more. She works with leading GB Riders including Anne-Marie Perry-Cowan, Olympic Para Team Member for Ireland, Angela Lyons, GB GP Rider Lisa Marriot, the list goes on. 2019 Gaynor performed 8 shows for BBC Countryfile Live at Blenheim Palace, with a stunning team of horses and Riders. Annie Cowan with Aristo and First Pitch, Chris Woods with Derocche, Sam Roberts with show pony Stallion, MoyleView Prince Consort, Georgie Roden with Incroyable and Lottie Flinn with Reggie. The shows were seen by over 6000 for each performance, over 51,000 in total.
BBC Countryfile at Blenheim Palace
She was asked by the BBC to perform at BBC's Country File Live at Blenheim Palace, and with a star studded line up of International riders, performed to an audience of 40,000. Gaynor, Anne Marie Perry-Cowan, Christopher Woods,( seen below) Sam Roberts, Lottie Flinn and Georgie Roden enjoyed BBCs Country File enormously, andwas booked by the BBC, for Countryfile Live in august in Windsor Great Park, sadly cancelled due to Covid 19.
2020 she started out with 10,500 plus wins, but Covid shut venues until the end of July. She then had 11,041 wins including more than one Championship Win at Hartpury and several International wins in Australia, South Africa, France, USA. Placings are also very important, so these also measure in thousands of 2nds and 3rds. She had 5 countries using her music in Tokyo.
2020 also saw her doing online Live Sessions Worldwide, and has done many Live Broadcasts to keep morale up, and still encourage riders of all levels. Her Live Sessions have brought a further 65 winning routines World Wide, so Covid has not defeated anyone competing in Dressage to Music. 2021 was a difficult year for everyone, Australia was locked down for months, Britain was going through it's own hardships, travel was difficult and Arenas were restricted. Online Competitions and limited spectator competitions, but she still created floor plans and music for 55 wins, 14 seconds and 19 third places.
2022, Gaynor has done 11 International sold out Arena 4 day clinics, 13 Dressage to Music Demonstrations and raised over £51,000 for various charities. Clients with her music, ( and as she creates it from scratch it can be descibed as her music) have had 143 wins ( including 7 Champions at National and Internationals, 29 seconds and 18 thirds so far with 3 months to go. Out of 234 musics created in 2022, 217 had top placings.
2023 will include a new Arena Tour which includes Bishop Burton, Unicorn, Myerscough, Hartpury, Netherton and more to be confirmed.
See Schooling to Music sub page to order Iberian, Cob, Warmblood, Celtic and Swing Schooling to Music CDs.plus many more Go to Online Shop for more information
BACKGROUND
Gaynor Colbourn is a very well respected, classically trained session musician, concert performer, composer for Film and Television, Musical Theatre, as well as a Grand Prix Dressage Rider/Trainer herself who has brought her talents tirelessly to the dressage arena since 1980, when she first worked with GB Olympic Star, Jennie Loriston-Clarke MBE. This partnership marked the origins of Dressage to Music as we know it today, and without her relentless clinics, demos, seminars enlightening and encouraging riders throughout the following years, the Dancing horses of London 2012 would never have happened.
Gaynor, as a composer and multi instrumentalist, as well as Grand Prix rider of over 35 years experience, originated Dressage to music as the sport we know now, with the help of John and Nereide Goodman of Wellington Riding in 1980. Her experience is unsurpassed, and she is the worlds most successful and prolific creator of music for dressage, with 11,331 wins up to August 2023.
2019 saw Gaynor working with several Icons of the Dressage World, doing Demonstrations with Olympic Star/Trainer and Judge, Jennie Loriston-Clarke MBE, 7 times Olympic Gold Medallist, Para Olympic Rider Deb Criddle MBE, 5 times Olympic Gold Medallist, Para Olympian Tash Baker MBE, Leading Olympic Judge/Trainer Stephen Clarke, Leading International Judge/Trainer Isobel Wessels, International List One Judge Fiona Wilson, List One Judge Debby Lush and so many more.
She was asked by the BBC to perform at BBC's Country File Live at Blenheim Palace, and with a star studded line up of International riders, performed to an audience of 40,000. Gaynor, Anne Marie Perry-Cowan, Christopher Woods, Sam Roberts, Lottie Flinn and Georgie Roden enjoyed BBCs Country File enormously.
Gaynor trained with the legendary Pat Manning F.B.H.S. from the age of 17 to 28, and was privileged to buy Pat's very talented Kingsway Natasha. Gaynor, under Pat's mentorship, trained both Natasha and her Hanovarian Lyric III, to Grand Prix. For many years, Natasha and then Lyric were an integral part of Gaynor's Dressage to Music Demonstrations, and Lyric is still around.
Having spent her whole adult life as a professional musician playing at Festivals, Concerts, Gigs, Gaynor is a very experienced performer. These skills alongside the experience of creating over 20,000 Competition CDs, and doing over 3500 Dressage to Music Clinics and more than 2500 Masterclasses and Dressage to Music Demos with top International Dressage Stars since 1980, going back to Dr Reiner Klimke in 1980's to the International Riders she works with now equip her to be a consummate and very knowledgeable performer.
2020/21, COVID meant all Gaynor's work, demos, competition music created and with over 200 winning routines a formidable 97% win rate, and sessions were online. 2022 she did 7, 4 day clinics, live chats, 17 Dressage to Music Demos, and created new schooling music. 2023, more to come.
She created Freestyle Music for 3 Nations so far for the 2020 Tokyo Olympics, and another Nations for Para Olympics 2020. She is already working on music for the Australian short listed riders. Britain will not be selecting just yet, but several prospects on the go.
GB International Rider and Trainer, Luke Baber-Davies riding his home bred Disaronna, who he has trained, performing to music created by Gaynor at her Hascombe Gala Evening of Dressage to music.
Katrina Cantrell riding Woodlander Donna Summer to a beautiful arrangement created by Gaynor of music from Les Miserable.
Melissa Beer riding Guardadamas at Gaynor's West Sussex Demo, to music both composed and performed by her.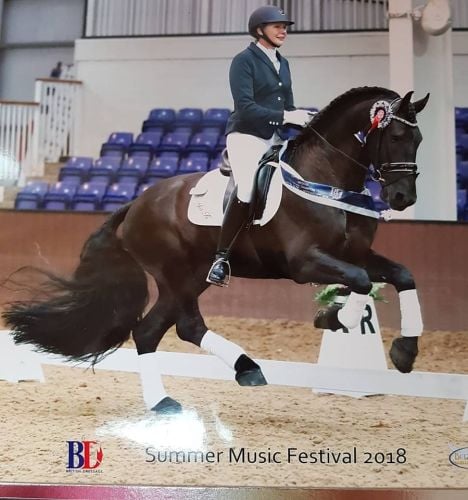 Katharine Lewis and her Fresian Stallion Joss K won both the Elemetary and Medium Summer Freestyle Championships
with music composed by Gaynor, from her very successful musical, The Fire of London, composed with Perryn Butler.
How Gaynor started in Dressage to Music.
'I have been involved in Dressage to Music from 1980, when I started working with Jennie Loriston-Clarke at the sport's inception. As a trained classical musician, composer and session musician in the recording and TV/Film world, and rider, the two skills seemed to be destined to merge. The initial idea came about when having dinner with John and Nereide Goodman, the owners of Wellington Riding in Heckfied. Their grand piano was conveniently situated near the television, when the Goodwood Grand Prix Special was being shown with the sound turned off. I was happily playing piano to the horses, in a way which was reminiscent of the silent movie films music. The rest is literally history, I met Jennie and our first joint venture was a superb demonstration of Dressage to Music at Wellington Riding, with Jennie riding the mighty Dutch Courage, a young Dutch Gold then working at Advanced Medium, and Benjamin Bunny. Neirede Goodman rode Wellington Oliver in a beautiful Pas De Deux with Jeremy Michaels, her chief instructor on a lovely chestnut, whose name escapes me. I produced music for all the demonstration, and developed my trademark style of playing keyboards live in the arena, matching every move, tempo, change, and yes, even the odd shy and buck.'
Gaynor has said that the shere variety of music she is asked to do is astounding, with music from all genres, old, new, classical, rock, folk, metal, musicals. reggae------- the list just goes on and on. Gaynor always makes her music foot tapping, fun, individual and most of all, tailor made in every way to the horse and the test. Judges can see music in harmony with the test, and the audiences love the drama and emotion put into the tests. Gaynor always approaches the music for her clients in a way which gets the most exciting experience for everyone, she is always pleased when clients say that the Freestyle made people cry. That means she achieves results on an emotional level as well as producing music that looks good in competition or demonstration.

Tailor Made Music and patch and pasted music explained.
There must always be variety in the music riders compete to, so there are two ways in which music is created, and it is personal preference which type of music you choose..
Firstly, bespoke music is created from scratch, with every instrument played and recorded individually, sometimes up to 32 instruments if a full orchestra or band is needed. This will enable the music to be both 100% accurate, as well as unique. If you are offered Bespoke Music, ensure it IS indeed bespoke, not patch and pasted existing recordings. Every horse is different, so arrangements are always different, reflecting the dynamics, personalty, tempos and transitions to the second. The misic will be arranged and played as one recording with played, smooth transitions throughout. The choice of music is infinite, any music can be arranged and recorded to suit, though its best to avoid the commonly used themes as Judges can get very bored. The rider can even choose what instruments are used, so the music is personal to them. Music can be played in any style, so you could have as an example, dance music played as flamenco, rock music played as swing, the possibilities are endless. Obviously this music involves a lot of time in both scoring and recording, so would normally be £2000 plus to create. Gaynor as the inventor of Dressage to Music does not charge anything like this, her concern is to create unique music for the spoirt, not to make money. She charges £150 whatever the level. From the Copyright angle, as performer and producer, as well as composer, Gaynor is the copyright owner, thus on the PPL she is stated as Artist, she titles the music herself, so all very simple to fill in.
Patch and Pasted music, this is the use of pre-existing non copyright recordings which can be downloaded and pasted from an accepted list of music which is allowed for reproducing for financial gain. There is a pretty extensive list of music which can be used, from which the producers of music can choose from. They can then download the music, varispeed to get a match to the horses tempos, and find sections of the recordings which reflect the dynamics. When the various pieces of music are put together to form a test, there will be a fade out and fade in for the transitions to ensure there are no obvious joins in the music when patching the pieces together. This process can be done very skillfully, matching the test throughout. For the PPL, every piece of music pasted together needs to be listed, the artist, title and time. Prices vary for this type of music medley, which is pre-recorded music from a 3rd party, thus not unique, being from £75.